Bizton állíthatjuk, hogy akadnak annál kellemetlenebb dolgok az életben, mint a Ritz-Carlton Hotelben ülni és hanyag mozdulattal megrendelni A Süteményt. Pláne, ha az egy csokis-narancsos csoda.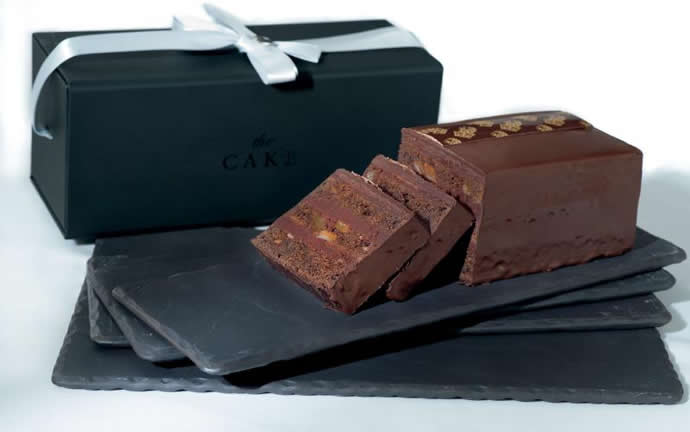 A Ritz-Carlton hotellánc úgy döntött, megcsinálja A Süteményt. Azért ez nem kis vállalás, de ha már megszületett a döntés, nekivágtak és meg is született a csokoládé-narancs ízű, már a képek alapján is nyálcsorgatásra ingerlő kreáció.
Az elkészítést a lánc főszakácsa, Rainer Zinngrebe felügyelte, a The Cake a Ritz-Carlton alkalmazottjainak ötletcunamijából állt össze és igen szigorú szabályoknak kell megfelelnie.
Csak Valrhona csokoládéból készülhet, kötelezően tartalmaznia kell Grand Marnier (azokban az országokban, ahol vallási okok miatt nem lehet a süteményben alkohol, ott narancsízesítés váltja ki), és szállíthatónak kell lennie, azaz nem eshet össze semmi perc alatt.
A végső, győztes recept a torontói szálloda japán cukrásza, Yusuke Aoke nevéhez fűződik, Rainer Zinngrebe szerint azért, mert tökéletesen egyensúlyoz a csokoládé, a savanykásság, és az édesség között, a kandírozott narancsdarabok pedig különlegessé teszik a textúráját. "Olyan, mint a jó bor, az íze hosszan az emberrel marad" – fogalmazott Rainer Zinngrebe.
Egyébként a The Cake ára sem olyan borzalmas, hiszen 40-45 dollárért (9-10 ezer forintért) elvihető, ráadásul ez 8-10 embernek elég.
(via)