Nyilván minden autógyár próbál előremenekülni és megpróbálja kitalálni, milyen is lesz a jövő. Például az a korszak, amikor már nem kell feltétlenül sofőr az autókba... A Bentley most alaposan elgondolkodott és be is mutatott egy vázlatot, amit persze nem kell teljesen komolyan venni, de ötletnek nem rossz.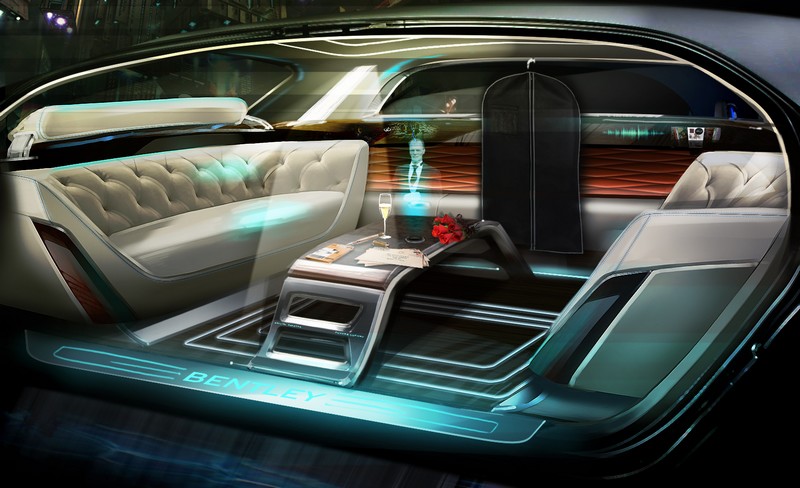 A Bentleyhez nemrég érkezett új igazgató a design részleghez, és Stefan Sielaff nem is sokat vacakolt, gyorsan munkához látott a csapatával. "A stúdiónkban olyan elképzeléseken dolgozunk, amelyek öt éven belül a piacra kerülhetnek. A jövőben élünk, amit itt látnak, az nekünk már a múlt, míg maguknak a jelen" - mondta a Car and Driver oldalnak.
A Bentley mostanában azzal az időszakkal kezdett komolyabban foglalkozni, amikor nem lesz majd szükség sofőrre az autókba.
"Az életmódunk drasztikusan megváltozik majd a következő 20 évben. A világ lakosságának háromnegyede a nagyvárosokban él majd, és én meglehetősen biztos vagyok abban, hogy nem mindenki használja majd a tömegközlekedést, mindig lesz igény a privátszférára" - tette hozzá Stefan Sielaff.
A cég persze megpróbálja továbbgondolni a hagyományokat, így komolyan gondolkodnak a beépített OLED-kijelzőkön, és az sem kizárt, hogy elhagyják a bőrt, mert a következő generációk alighanem sokkal jobban szívükön viselik majd a fenntarthatóságot és ezt az autóiktól is elvárják.
A nagy dobás azonban alighanem a virtuális lakáj lenne, aminek a megvalósításán a hírek szerint már dolgoznak is a Bentley boszorkánykonyháján a színfalak mögött.