Madonna Portugáliába költözik, egészen pontosan Lisszabon mellé, ahol egy 18. századi mór-stílusban megépített kastélyt vásárolt.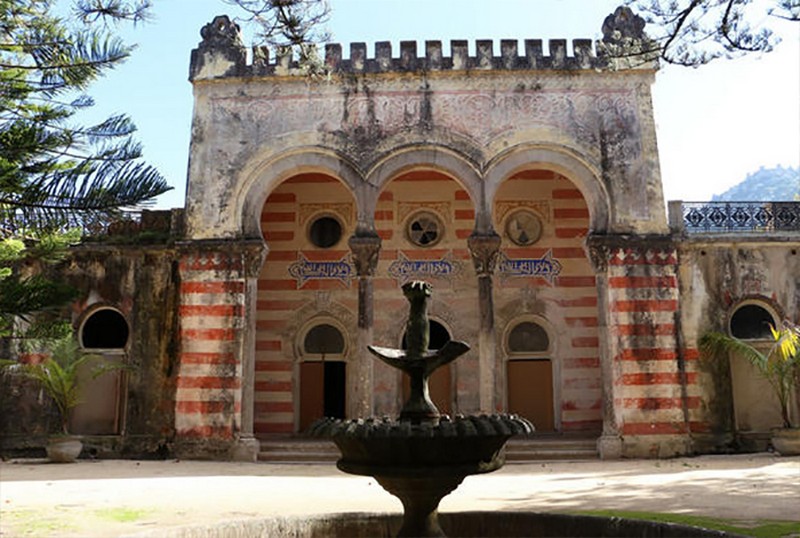 Az énekesnő szeptember elején jelentette be szelfinehéz Instagramján, hogy már összecsomagolt, miután 7,5 millió euróért megvette a történelmi Quinta do Relógio birtokot vásárolta meg a festői Sintra falu dombtetején.
A birtok Lisszabontól 30 kilométerre fekszik és több, mint két hektáron terül el. Az impozáns, mór stílusú, 1500 m2-es kastélyt 1865-ben építette Antonio Manuel da Fonseca.
A hatalmas, aprólékosan díszített, 4 szintes, 4 hálószobával és 7 fürdőszobával rendelkező épület még nem teljesen lakható, de az alapvető felújítást már elvégezték.
Még pár év, sok millió dollár és kész is lesz a főépület renoválása, amely arról híres, hogy az 1800-as évek végén D. Carlos de Braganca spanyol trónörökös részben itt töltötte a nászútját.
Ha nem a főépületet választja, Madonna akár most is beköltözhet, mert a 440 m2-es melléképület fényűzően fel van újítva. Emellett jó állapotban van a 100 m2-es gondnoklakás is.
A kertet romantikus stílusban tervezték meg, van egy kis tavacska, számos forrás és szökőkút, a növényzet buja és sok ritka fa is megtalálható benne, százéves tölgyek, cédrusok és pálmák.
Madonna, aki hosszú ideje a popszakma fősodrában munkálkodik és legalább 580 millió dolláros vagyona van a Forbes szerint, régóta New Yorkot tekinti elsődleges otthonának.
Korábban az Upper West-Side-on, a Harperley Hall nevű épületben vásárolt egy 550 m2-es lakást, amit 2013-ban, 16 millió dollárért adott el, de van ott egy másik lakása is, a hetedik emeleten, amit 2008-ban vett 7 millió dollárért.
Nemrégiben be is perelte az épület igazgatótanácsát, mert nem engedték, hogy a lakást a gyerekei, a barátai és az alkalmazottai akkor is használják, ha ő éppen nem tartózkodik ott.
Madonnának egy egyetemista lánya és 3 iskoláskorú gyermeke van. 2009-ben hagyta ott a menőbb Upper East Side-ot az Upper West Side-ért. Fenntart továbbá egy hatalmas, 20 hektáros lovastanyát Bridgehamptonban, amit két különböző, de összefüggő tranzakció során szerzett meg 2010-ben, összesen 7,2 millióért.
A birtokon egy hatalmas lóistálló és egy kétemeletes lakóépület található 6 hálószobával, két cselédszobával, különálló, háromautós garázzsal, egy fűtött medencével és egy spával.