A Gazdag kölykök (Rich Kids…) Instagram-profilnak már számtalan leágazása van, mi magunk is többet bemutattunk közülük. Ami közös bennük, az a sokszor gyomorforgató dicsekvés a pénzzel és vagyonnal (jellemzően persze apuci és anyuci vagyonával). Most azonban sikerült az eddiginél is magasabbra tenni a lécet.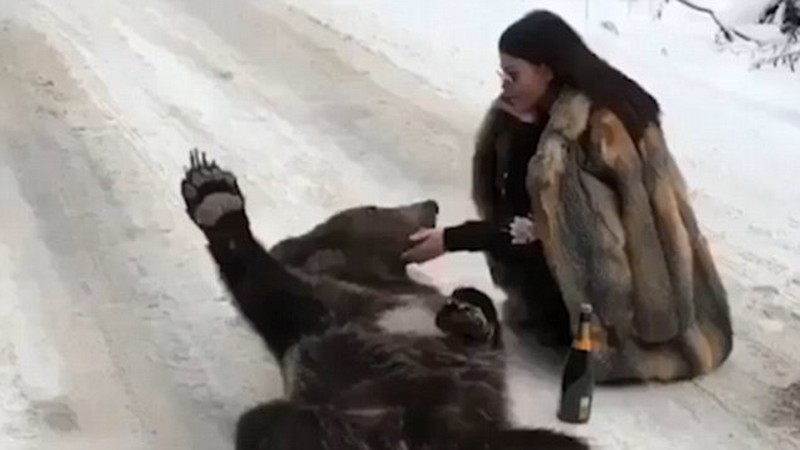 Hatalmas botrányt kavart a Rich Kids of London Instagram-profil, amikor egy videóban egy szőrmebundás lány pezsgővel és élő medvével pózolt. A felvételen egy csinos, napszemüveges nő látható bundában és térdig érő csizmában, ahogy egy medve pofáját simogatja és a mellkasát dögönyözi, míg a medve háton fekszik a jeges út közepén és a nőt (egy oroszul beszélő) kameraman irányítja. 
A videó több mint százezres megtekintést hozott, no és rengeteg dühös hozzászólást. Gyorsan megszületett ugyanis a felzaklatott közönség ítélete, a beteg és undorító jelzők elég gyakran megjelentek a kommentekben.
Voltak, akik azt írták, a medve le volt szedálva, volt, aki betegnek nevezte a nőt, és akadt, aki így fogalmazott: "Egy halott medvét viselve játszol egy élő medvével, undorító lány."
"Nagyon szomorú érzés, hogy valódi szőrmét visel, miközben egy élő medvét babusgat – vélekedett valaki, és megszületett a konklúzió is: "ekkora tudatlanságra nincs magyarázat".
A Rich Kids of London Instagram oldala arról ismert, hogy a nagyváros leggazdagabb fiataljainak életét mutatja be. A luxushoz való hozzáférést, a magánképeket, különleges nyaralásokat és a gyors autókat.
Az nem derült ki, hogy ez a felvétel hol készült, vagy a nő londoni-e, bár a hóból és az orosz nyelvből ítélve aligha a brit főváros környékén, bár manapság már ezt sem lehet tudni.