Pontosan 12 év építés után idén megnyílt a dubaji "iPad-torony", vagyis a The Pad, benne 231, a legújabb okostechnológiával felszerelt lakással. Ami kissé ironikus, ha azt vesszük, hogy a tervezéskor szupermenő, mára gyakorlatilag eltűnt iPodról kapta a formáját.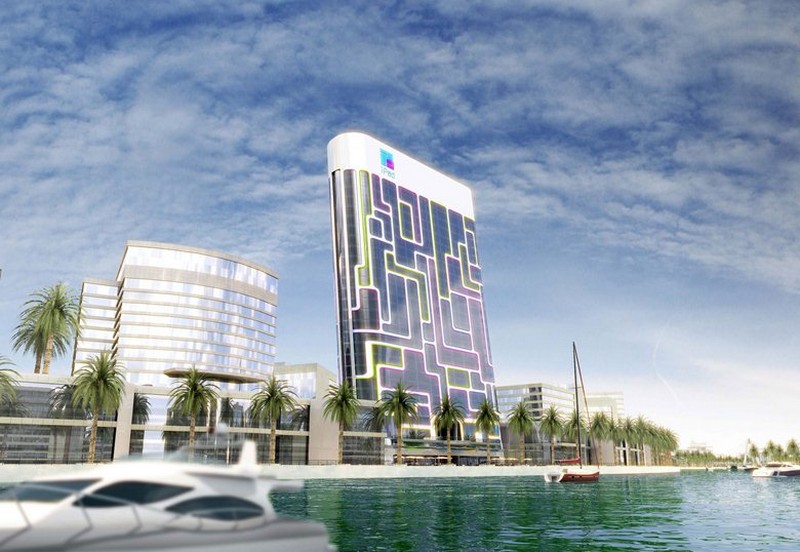 Az üzenet ugyanakkor egyértelmű: a Pad maga akar lenni a megtestesült okostechnológia, olyannyira, hogy az építész James Law bevallottan azt szeretné, ha a lakóház mindenkit meggyőzne arról, hogy a technológia egyben lényeges dizájnelem is. 
"Korábban a beton, acél, üveg és az épület formája határozta meg az építményt, de ma már úgy vélem, olyan világban élünk, ahol ezek csak az alapanyagok. Legalább ilyen fontos a technológia, az okosanyagok, és az interaktivitás" – nyilatkozta az építész.
A lakások tele vannak képernyőkkel és szenzorokkal. Néhány fal az iReality-be is be van kötve, a virtuális valóság olyan rendszerébe, amely 62 különböző képet tud projektálni a nappaliba. 
A fürdőszobában bioszenzor méri a súlyt, vérnyomást és hőmérsékletet. A bejövő hívást a plafonon megvillanó fények is jelzik. A bejárati ajtó is okostechnológiával nyílik. 
Csak az nem világos még, hogyan zajlik majd az épület karbantartása. Egy 2004-es német kutatásban azt találták, hogy a háztartási eszközök csupán 5 százalékát kell lecserélni 5 éven belül. 2013-ra ez a szám 13 százalékra emelkedett. 
Néhány termék magában hordozza a "tervezett elavulást". Ezzel remélhetőleg azért nem kell számolni a The Pad lakásainál. Problémát jelenthet ugyanakkor, hogy az okoseszközök hibaelhárításával foglalkozó cégek kapacitása még aligha képes megbirkózni ekkora feladattal. 
Ráadásul a beépített okoseszközök speciálisak, nem tömegtermelésben készültek, ugyanakkor nehéz elképzelni, hogy 24 órás karbantartó szolgálatot is terveztek hozzájuk. 
Mi van, ha elromlik az okosbejárat? Hogy birkóznak meg az áramkimaradással? Mi lesz, ha a képernyők elkezdik felmondani a szolgálatot? Rengeteg ilyen kérdés van, amire a választ remélhetőleg nem kapjuk, mert ha igen, az igazi rémálommá válhat.
Érdekel, hol élnek a leggazdagabb amerikaiak? Hát itt!
(Fotó: James Law Cybertecture International)