Múlt hétvégén tartották a 23 éves Victoria Swarovski és müncheni szerelme, az üzletember Werner Mürz esküvőjét. Az nem kifejezés, hogy az esemény csillogó volt – de hát ez a minimumelvárás egy kristálybirodalom örökösétől.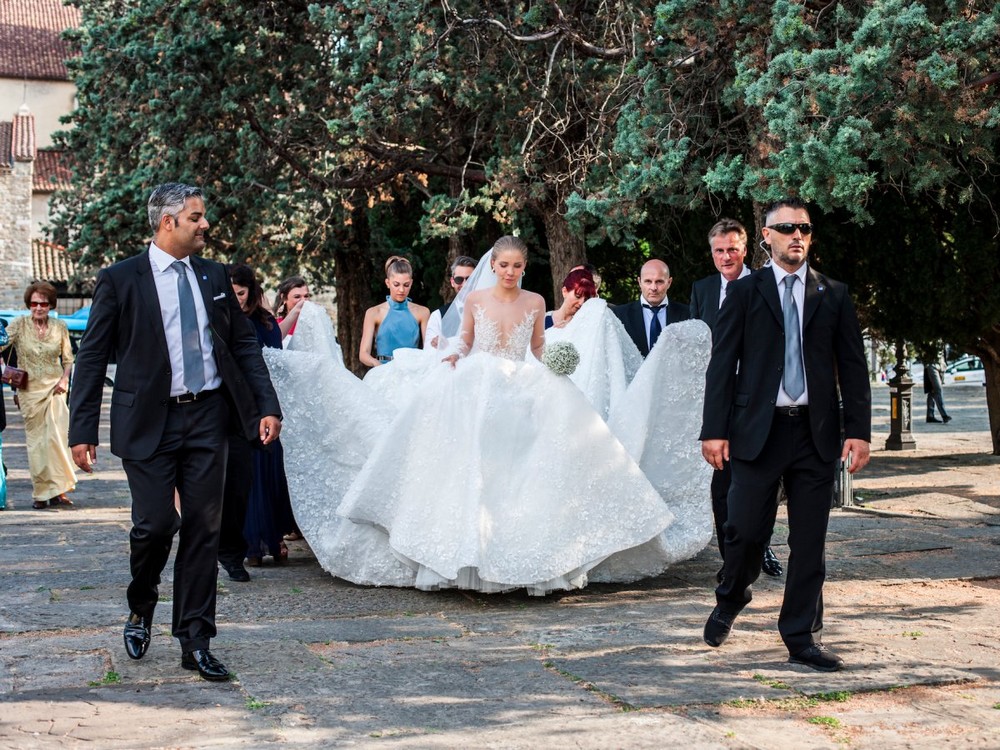 A háromnapos lagzit érthető egy csodálatos olasz tengerparti kisvárosban, Portopiccolóban tartották, ezen belül is az ötcsillagos Falisia hotel volt a központ, ahová 250 rokont és közeli barátot hívtak meg. 
Victoria Paul és Alexandra Swarovski lánya, az ifjú férj pedig elsősorban ingatlanbefektetéssel foglalkozik. Majd nemsokára írunk pár mondatot a hölgyről is (nem akármilyen személyiség), de előtte lássuk, milyen volt a buli! 
Az első este az illusztris vendégsereg egy "Tészta és szerelem" tematikájú vacsorán és bulin vehetett részt. Az Ausztriában születettVictoria Swarovski a dubai központtal működő dizájner, Michael Cinco (ügyfelei között van Beyoncé, Jennifer Lopez vagy éppen Rihanna) kristályokkal ékített ruhájában pompázott. 
A ruha 
Az esküvő maga másnap a trieszti San Giusto katedrálisban volt. Ezen Victoria Swarovski egy fehér ruhát viselt, szerény 500 ezer (igen: félmillió) Swarovski-kristállyal. Természetesen ez is Cinco-tervezés volt. 
A ruha szelíd 46 kilogramm (!) volt, 8 méteres uszállyal, és nem került többe (vagy nem sokkal) egymillió dollárnál. Hozzá Jimmy Choo cipő dukált. 
A ceremónia után a pár és a vendégsereg visszatért Portopiccolóba, ahol a vacsora a tengerre néző Maxi's étteremben volt. A helyszínen minden fát feldíszítettek – igen, több ezer Swarovski-kristállyal, mi mással. Az esküvői torta ötemeletes volt. A buli másnap egy búcsú brunch-csal ért véget a helyi Beach Clubban. 
Ezt követően a pár elment egy francia nászútra, ahol jachtozgatnak és szénné vásárolják magukat. 
Kicsoda Victoria Swarovski? 
Túl azon, hogy egy kellemes vagyon örököse, Victoria Swarovski saját jogán is egész szép karriert mondhat a magáénak. Már 16 évesen megkötötte első lemezszerződését a Sony Music kiadóval, és fellépett a 2014-es Szocsiban rendezett téli olimpián. 
Két éve megnyerte a Dancing with the Stars német verzióját, jelenleg pedig a Germany's Got Talent egyik zsűritagja.
(Fotó: Chris Singer / Johannes Kernmayer)