Az már biztos, hogy a gazdag emberek mindennapi dolgokra is sokkal többet költenek, mint az átlag, de nem mindig azért, mert az a dolog biztosan annyit is ér, inkább azért, mert így sokkal értékesebbnek tűnik mások szemében. Nagyon gyakran ilyenek a frizurák is, a "ki fizet többet a semmi különösért"-verseny éllovasai (nem tagadva természetesen, hogy egy jó fodrász nagyszerű dolgokra képes). Nézzük a 10 legdrágábbat!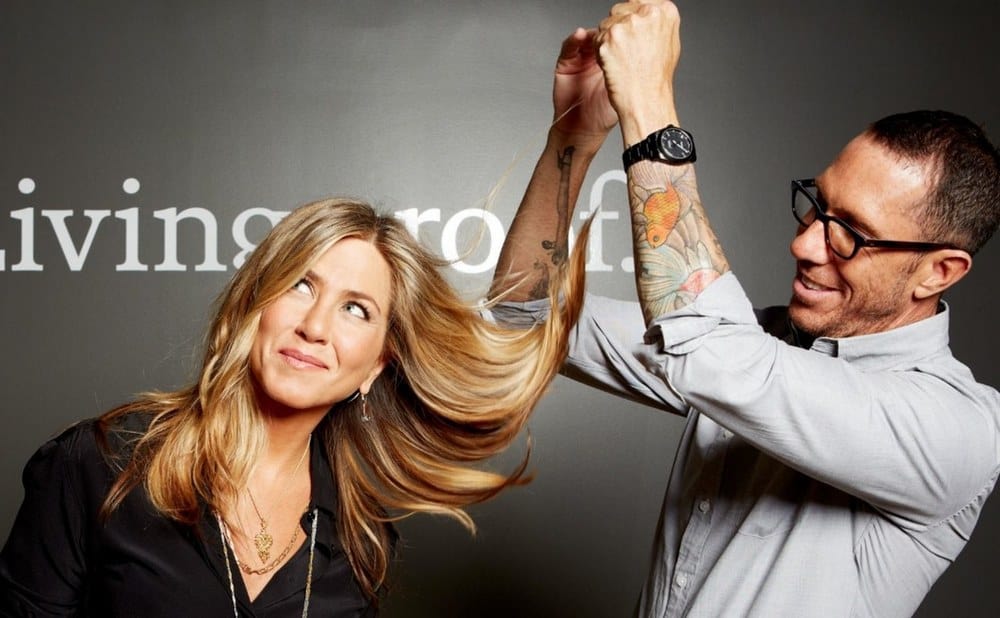 Jennifer Aniston és Chris McMillan
#10 Oribe Canales (400 dollár – 108 ezer forint)
A kubai születésű fodrász Jennifer Lopez, Celine Dion, Gwyneth Paltrow és Penelope Cruz kedvence. Filmsztár akart lenni, de aztán inkább fodrász lett és saját céget és hálózatot vezet. A művészetig emelte a hajvágást.
#9 Serge Normant (500 dollár – 135 ezer forint)
A francia haj-stylist Los Angelesben és New Yorkban is dolgozik, imádja közönség előtt mutogatni a tehetségét, sokszor csinál bemutatókat is. Sarah Jessica Parker, Julia Roberts, Reese Witherspoon, Julianne Moore és Ellen Barkin is a kuncsaftjai között található. 
#8 Chris McMillan (600 dollár – 162 ezer forint) 
Jennifer Aniston híres fodrásza 30 éve van a pályán. Laza hajviseleteiről híres, saját, róla elnevezett szalonját 2002-ben nyitotta Beverly Hills-ben. Courtney Cox, Cindy Crawford, Nicole Kidman, Jennifer Garner és Salma Hayek járnak hozzá sűrűn. 
#7 Frederic Fekkai (750 dollár – 202 ezer forint) 
A francia fodrász 1979-ben költözött New Yorkba és már a 90-es évek végén 300 dollárt kért egy frizuráért. Saját samponmárkát is alkotott, 22 dollárba kerül egy üveg. A nagy áttörés akkor jött el, amikor Meryl Streep, Uma Thurman, Sigourney Weaver, Charlize Theron és Scarlett Johansson is nála csináltatott frizurát. 
#6 Sally Hershberger (800 dollár - 216 ezer forint) 
A Kansas-ben született művész 18 éves kora óta fodrász. Hollywood kedvenc hajszalonjában, az Arthur Jonasnál dolgozott, amíg fodrásziskolába járt. Meg Ryannek készített frizurája, a Sally Shag tette híressé és indította el a gazdagság felé. Televíziós műsorokban is dolgozik. Ő volt az első, aki 600 dollárt kért egy frizuráért, azóta emelte a tétet. 
#5 Orlando Pita (800 dollár) 
Számos díjat nyert innovatív stílusa miatt. Orlónak nevezi a szalonját, amit 2004-ben nyitott Manhattanben. Már 2007-ben a divatszakma egyik legnagyobb hatású emberének nevezte a W Magazin. 
#4 Ted Gibson (1200 dollár – 324 ezer forint) 
Átlépve a bűvös ezer dolláros határt bemutatjuk Ted Gibsont, aki maga is híresség, a What Not to Wear sztárja. Katonacsaládban született Texasban, Németországban, Japánban és Hawaii szigetén is élt. 
Angelina Jolie, Ashley Greene, Renee Zellweger, Jessica Chastain és Anne Hathaway rendszeres vendégei. Szerepelt az Oprah Showban, a The Today Showban és a Good Morning America-ban is, dolgozott a Vogue-nak, a Harper's Bazaarnak, az Elle-nek, a Marie Claire-nek és a Vanity Fairnek is. A legnagyobb márkák divatbemutatóira is hívják. 
#3 Rossano Ferretti (1600 dollár – 432 ezer forint) 
Az olasz fodrászmesternek több mint 20 szalonja van a világon, például Madridban, Milánóban, New Yorkban, Párizsban, Londonban és Mumbaiban. A L'Oreal márkával turnézik a világ körül, fodrászszemináriumokat tart. Művészete, kreativitása és innovatív szépségkoncepciója tette népszerűvé. Angelina Jolie is a kuncsaftja. 
#2 Stuart Phillips (16 000 dollár – 4 millió 320 ezer forint) 
Üdv az elmebaj földjén, ekkora pénzt ugyanis egy frizuráért kifizetni szerintünk már ide tartozik (még akkor is, ha mint hamarosan kiderül, egyszeri és nem is akármilyen alkalomról volt szó) – és még nem is az Egyesült Királyság legjobb férfifodrásza címet 2014-2015-ben kiérdemlő Stuart Phillips a legdrágább. 
Szalonja a Covent Gardenben a legjobb Londonban. Benicio Del Toro, David Hasslehoff, Jamie Oliver és Jean-Claude Van Damme is őt választják. 
Általában 300 dollár egy frizura, de az ingatlanfejlesztő Beverly Lateónak egyszer egy pezsgős ebéddel, fejmasszázzsal, csak az ő számára készített L'Oreal termékekkel, magánrepülőgépes repüléssel és limuzin szolgálattal kombinált hajvágás 16 000 dolcsijába fájt. Hogy ebből mennyi volt maga a frizura, arról hallgat a pletyka. 
#1 Ken Modestou (24 000 dollár – 6 millió 480 ezer forint) 
A Mayfairen található Dorchester Hotelben van a szalonja, egy átlagos frizuráért csak 60 dollárt kér, ami őszintén szólva nem is olyan borzalmasan sok. Amiért mégis a lista élére került, az nem más, mint hogy ő Brunei szultánjának a személyes fodrásza, aki gálánsan 24 000 dollárt fizet neki egy hajvágásért. 
Luxusosztályon utaztatja a Singapore légitársasággal és néhány éjszakát is a Közel-Keleten tölthet ilyenkor. És ez így megy 16 éve.